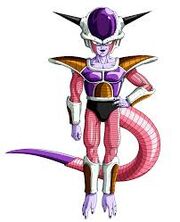 Frieza

Race

Frieza's Race

Gender

Male

Height

approximately 5'0 in final form

Occupation

Emperor

Relatives

Frost (Universe 6 Counterpart), Chilled (ancestor), Frieza Clan (relatives), King Cold (father), Unnamed Mother, Cooler (older brother)

Voice Actor

Christopher Ayres
Frieza is the prince and emperor of the universe who controlled his own imperial army and was feared for his ruthlessness and power.  He is the descendant of Chilled, the second and youngest son of King Cold, and the younger brother of Cooler.  It's known that his villainouss actions is what led
Goku
arriving on Earth.
Appearance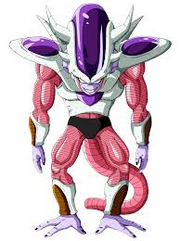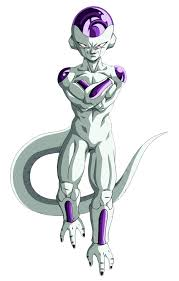 Frieza possesses an entire range of transformations, each one being quite different from the others.  It is implied by
Vegeta
 and Frieza himself that Frieza's fourth and most powerful form is actually his original form, with the other three forms that suppress and conserve his enormous power.  In his first form, Frieza  usually wears battle armor with a purple chest plate.  When in his final form and also in his Golden form, Frieza wears his race's ultimate bio suit.  When in his mecha form, his body is equipped with a permanent cosmic suit.
Personality
At his core, Frieza relishes death, agony, and destruction, as he shows in his enjoyment of the destruction of Planet Vegeta.
Community content is available under
CC-BY-SA
unless otherwise noted.