Nightbolt

Nightbolt

Real Name:

James Crepe

Current Alias:

Nightbolt

Aliases:

Nightbolt, Jimmy,

Relatives:

Unknown

Affiliation:

Briefly held probationary status in the X-Men, The Celestial Avengers

Base of Operations:

Unknown

Origin:

mutated by experimentation

Universe:

Earth- 616

Place of Birth:

New York.

First Movie Appearance:
History
Origin
As a volunteer for the Weapon X program, Nightbolt, AKA James Crepe, got mutated so that his molecules were in a constant state of flux, allowing him to control or repair them. Also combined with Gun and Blade mastery, Mastery of Martial arts and heightened senses, Nightbolt was supposed to be the best super-soldier ever.
Powers
Nightbolt has abilities of Molecular Rearrangement, meaning he can re-arrange molecules or other object's molecules he can come in contact with. For example he can pass through solid objects, with-stand the Greatest impacts, teleport, and he also has the ability of Telekinesis. Nightbolt also has other powers, that are unknown to him.
Alternate Suits
Mech Suit [Fig 2]
Nightbolt's Mech Suit is powered by Stark Tech. It has just about the same weapons that
Iron Man
does,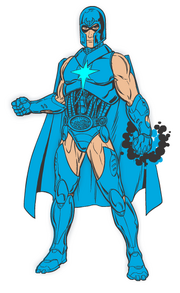 including the Hand Repulsors. The Mech Suit was built by Tony Stark as a gift to Nightbolt.
Ultimate Suit [Fig 3]
Nightbolt's Ultimate Suit is similar to his original suit, but slightly different.
Stealth Suit