The Droiders
They are 4 robots with intentions to enslave humanity. They are main enemies of the Heroics, although former member Beta joined the Heroics.
Current members
Alpha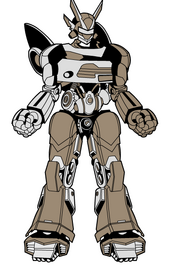 The leader and founder of the Droiders. He was built by Phineas T. Quentins, a scientist who he killed. Alpha is the most powerful of the Droiders, with near-invulnerability, great weapons and strength, and great speed. He built the other 3 members.
He is the fastest member of the Droiders. He has been shown running at the same speed as the fastest mortal who ever lived, Speedburst. He has the least offensive capability.
The strongest member. He was shown wrestling Hybrid, who is extremely strong. He has been shown lifting 1,000,000 tons. He is extremely loyal to Alpha and, along with Ultra, is shown as a bodyguard to Alpha.
The newest Droider. He was built to replace Beta after he left. He is the most durable, shown withstanding a punch from Hybrid.
Former Members
A former member. He was found and rebuilt by Alpha after he built Gamma and Delta. He was tricked so he thought they were helping humanity. When he found out, he left and joined the Heroics.